Robben Island
Visit Robben Island
Situated in the middle of the Atlantic Ocean some 9km offshore from Cape Town, Robben Island welcomes visitors from across the globe all year round. "Robben" is Dutch for "the place of seals" and the Island is a reminder of both South Africa's past struggle during the Apartheid era, as well as being a shining beacon of the country's freedom. It was made a World heritage Site in 1999 and even though it has been a mental institution, military base and a hospital, it is most well-known for being a prison for political prisoners during Apartheid, a dark time in South African history characterised by racial segregation and discrimination. Perhaps the Island's most famous prisoner was South Africa's former president and prolific freedom fighter, Nelson Rolihlahla Mandela, who served 18 of his 27 years of imprisonment there.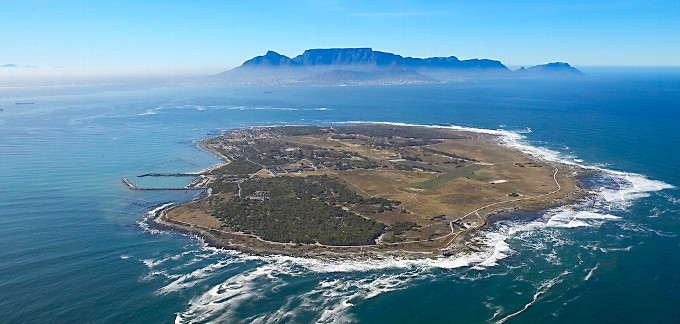 Informative tours to Robben Island are available daily throughout the year and begin at the Nelson Mandela Gateway at the V&A Waterfront. Visitors can engage with the many exhibitions on display, which include multimedia exhibitions as well as an educational timeline exhibition. Ferries then transport you from the Gateway to the Island at different times during the day. You are advised to arrive no later than 30 minutes prior to departure and bear in mind that the boarding gates close 10 minutes before scheduled departure time. It is advisable that you book your tickets in advance to avoid disappointment and to ensure that you manage to get the time slot you prefer.
The tours last roughly three and a half hours, including the ferry trips to and from the Island. The tour guides are all past political prisoners which means that you will receive a first-hand account of what life was like on the Island for those who were incarcerated there during Apartheid. They are also highly knowledgeable about the Island's 500 year history and it is both these things that ensure your experience is a more authentic and meaningful one. Visitors are met by buses after disembarking from the ferry and are given a driven tour of all the historical sites around the Island, which include the Lime Quarry, where prisoners were forced to do intensive manual labour, Robert Sobukwe's house as well as the Maximum Security Prison. The tour ends with a visit to Mandel's cell which has been kept in its original state since he was granted his freedom.
Robben Island is a place that should be visited by everyone as it provides a glimpse into South Africa's turbulent history but at the same time is a reminder of how far we have come as a country and as a nation.
Visit http://www.robben-island.org.za/ for all the information you need regarding the Island, the museum and the tours available; or sign up for the Around About Cars Newsletter to hear more from us.